Debit Cards
Convenience can change your life. A Maui FCU debit card allows you to access funds instantly, pay bills, and make purchases directly from your share draft account.
Your buying power just got more powerful
Fast and secure access to your share draft account means you can pay for what you need quickly and safely. With free money management and fraud control at your fingertips built into our Maui FCU Mobile App, it's the perfect solution.
Enjoy...
Free online, mobile*, and phone banking*
Easy access to your share draft funds with your Debit Card
Accessibility via Digital Wallet
Free Fraud Control and Money Management with Maui FCU Card Shield
Access to your cash at surcharge-free ATMs
All Maui Federal Credit Union Accounts Feature:
Looking for Youth Accounts?
We offer savings and checking solutions that help our youth start building financial habits early.
Card Management at Your Fingertips
Ready for an easier way to manage your cards? Managing your Maui FCU Debit Card just got EASIER! You have been using our Maui FCU Card Shield App* to manage your cards and it is great, but we heard you. It is now on ONE PLATFORM! Our Debit Card Management Service, is now built in on our Maui FCU Mobile App as of June 28, 2022.
Our upgraded mobile app puts more control, convenience, and safety in your hands. Through your Maui FCU Mobile App, you'll be able to control your card(s) and easily review financial transactions, helping you make smarter financial decisions.
*For members who have the Maui FCU CardShield App, you can now remove the app from your mobile device and utilize the functionality on your mobile banking app.
Debit Card Management at Your Fingertips!
Turn your debit card on and off
Establish transaction controls for dollar amount limits, merchant categories and geographic locations
Monitor and manage debit card usage
Receive alerts when your debit card is used
Stay informed of potential fraud with alerts on attempted or declined transactions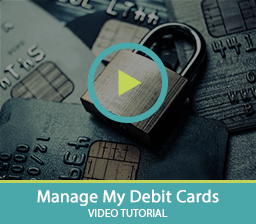 More service tutorials and click-thru demos are available!
Our built-in card management lets you:
Control Spending
If you're trying to establish or stick to a budget, our built-in card management can help. Set spending limits for general use or specify thresholds by merchant types, such as gas, groceries or retail stores. You can also establish these controls by location. You can easily change these parameters anytime with ease via your mobile device. Going on vacation? Holiday shopping? Simply update your transaction controls to fit your spending needs.
Fraud Protection
A lost or stolen card is just one area of concern in today's world where identity theft, skimming and other attacks are an unfortunate reality.
On & Off: Turning your Maui FCU debit card "off" when you're not using it or have misplaced it helps safeguard against fraud. When your card is "off," no withdrawals or purchases will be approved. Simply turn it back "on" once you need it or found your card.
Transaction Controls: Allow your debit card to work only in specific locations or geographic areas, add another layer of protection.
Real-time alerts keep you informed when your card is used or declined.
Review Balances and Transactions
Monitor your finances from anywhere. Use the Maui FCU mobile app to check your account balances.
Get Started!
Get the mobile app that lets you control debit card usage and spending on the go!
Download the Maui FCU Mobile App2
Stay Connected with our Mobile App Suite
Ready to get started or join the Maui FCU Family?
You might be interested in…
Mobile Banking at Your Beck and Call
Convenient mobile banking is always there for you!